There's nothing like being out on the water. Athletes who rely on that water for competitions know not to take great weather for granted. Ancient Egyptians felt the same way, they started racing on the Nile pretty much as soon as they could build reliable vessels on the river.
That infinite love for showing the utmost skill on the water has not dimmed over the years. Boat racing has just become more advanced and organized as time has gone on. Now, it has blown up into a global phenomenon. Since 70% of the earth is covered in water, it only makes sense that so many people have evolved a passion for it.
While we haven't seen the last of boat racing advancements, it is exciting to picture the future. But now is a good time to examine the most common types of boat racing going on today.
Types of Boat Racing
1. Rowing
Want to get into rowing? Dedicate time to increasing your upper body strength, because nothing will serve you better in this sport. Rowing has been competitive since 1715 and part of the modern Olympic games for over 100 years for men, with women entering competitively in 1976.
Rowing uses oars that are attached to the boat itself through oarlocks. Competitions take place in lakes, rivers, canals, and even the ocean. There are two types of rowers:
Scullers have one oar in each hand and are typically faster.
Sweepers have one oar in total that they use both hands to row with.
There are rowing events for both solo racing as well as with an entire team.
2. Regatta
Think of all the boats that rely on the wind to glide through the water. A regatta is a series of races that are built around those types of boats. Competing in a regatta requires a whole team to manage a boat. These races are amateur and are more for the fun of it than the other races.
3. Yacht Races
These are the big boats with the big sails. Because of the sheer size of equipment here, the courses are longer to accommodate. While boating, in general, is not a cheap sport, yachting is seen as more elite. That has a lot to do with the yacht itself being out of financial reach for many people.
Different types of yachts will comprise a variety of yacht races.
As much as yachts are equated to wealth in modern times, they came from a more interesting past. Originating in the Netherlands, yachts were first built in the 1300s. The original purpose was to have a fast boat that could chase down criminals and pirates in the open water.
Prized for their speed and agility, the racing between yachts became a spectator sport in 1851 when yacht clubs put together the first official race, America's Cup, in England.
4. Para World Sailing
This type of boat racing was created as a way for disabled sailors to participate in competitions with their vessels alongside able-bodied sailors. This is actually one of the few sports where this happens. The competitions are held in multiple locations and this type of racing is included in the Paralympic Sailing Program.
5. Twilight Racing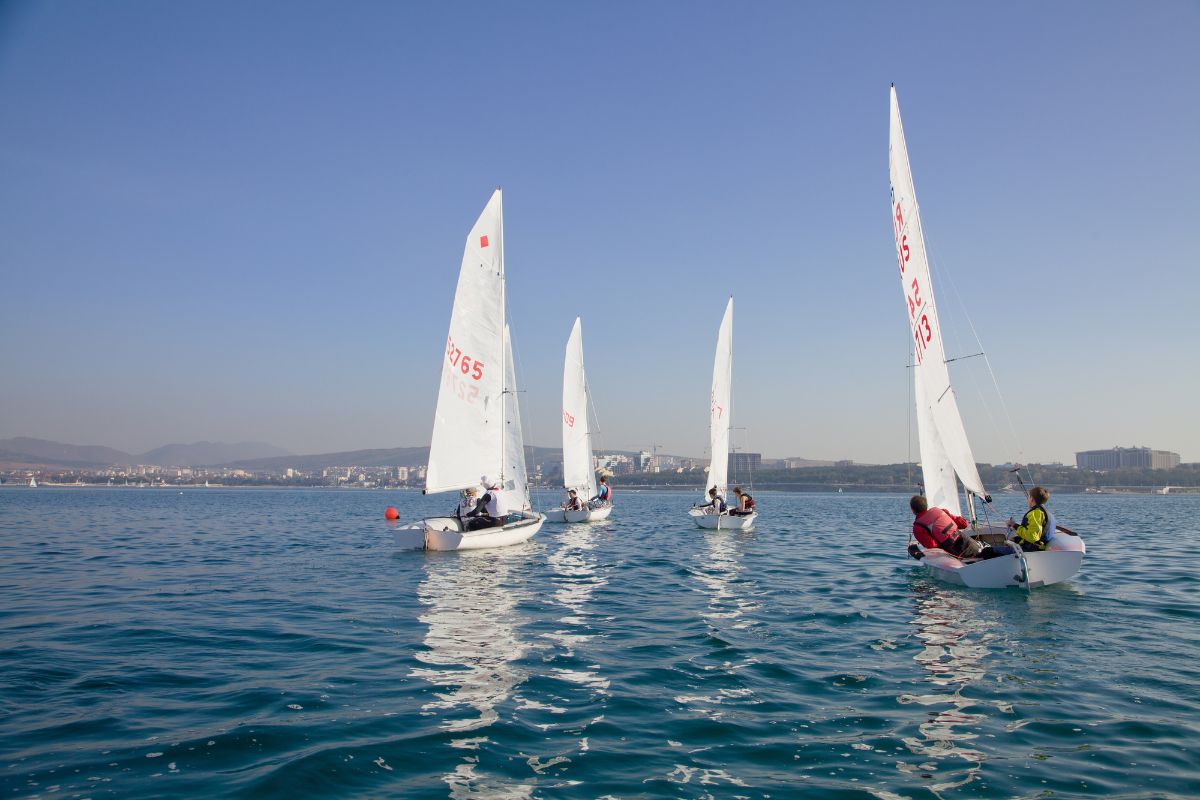 These are mainly social events where racing is part of the program. Twilight races take place during the summer and are put together by local sailors and the community.
Boat Racing Styles
Aside from the types of boat racing, there are styles in which the race is best carried out. Here is a list of what you can expect to see during a race.
1. Windward/Leeward
This is a racing course that spectators can watch the start and finish of. One part of the course would be windward, facing the wind, and the other part leeward, or downwind.
2. Course
This is what you'll be seeing the most if you're on the hunt to attend a race in person. Sailors show off their skills by working their way around marks in the water.
3. Fleet
Racing with a number of other sailboats, specifically around a course, is fleet racing.
4. Offshore
These take place out in the ocean and happen over longer periods of time. This isn't the type of race you can watch from start to finish in the same spot. It's not uncommon for an offshore race to take place over hundreds of miles.
5. Match
Take two yachts that could pass as twins and line them up. They sprint off in an effort to see which has superior power and which sailor possesses the control to put them in the winning circle. There is a lot of strategy involved and the people on board would need to have a keen knowledge of the boat, wind, and water.
6. Team Sailing
Two teams are pitted against one another. These teams actually take ownership of a handful of boats that compete across several races but within the same class. Team sailing can apply to all types of boat racing. Funny enough, the boat with the higher number of points is the one that loses the race.
7. One-Design
Based on a number of requirements, boats are divided up for high-speed racing. Those that are virtually identical are grouped together for racing. Currently, there are over 200 different one-design classes that sailors are racing under. Luckily, that means there's quite an opportunity to jump in if you're into this style.
Boat Racing Necessities
Before you show up with your boat at the next big competition, there are some things that you wouldn't want to start without. They range from handy to life-saving, so be sure to get packed before you set sail.
I should note, that not everything on the list applies to every type of boat. Some are more concerned with weight. Be sure to inquire with a professional.
Lifejacket
I'll start with the most important thing to have whenever you're on the water. Because water is just as tricky as getting on the highway, it's always best to be on the safe side of things. You just never know when you'll hit the water in an unexpected way and something terrible follows.
Being prepared for anything means you won't have to think about little things in case of an emergency.
GPS
For races so short that you can see the course from where you stand, this might not sound all that important. GPS is essential for long races, however. There are races that actually take months to complete, more on that later. Can you imagine being stuck in the ocean with just a compass and map? What century is this?
Oar or Paddle
It's always good to have, no matter how your boat gets around, just in case.
Boat Racing Competitions
There are all types of races using all kinds of boats all over the world. Boating is such a popular sport, you could spend a year going to a different race on a regular basis and still not see everything. So, we have a list of some of the most popular competitions around the globe.
1. America's Cup
Since the mid-1800s, yachters have come from all corners of the map to compete for major prizes here. Auld Mug, as it's called, is the oldest international competition in any sport. So, to say it's prestigious is an understatement.
Like the Olympics, America's Cup is only awarded every four years and the competition takes place in a different location each time.
2. Cowes Week
Another competition series steeped in history is Cowes Week. Still one of the biggest events, with over 8,000 participants, it's also the oldest sailing race in England. Not only can you watch thousands of boats plug up the waterways, but it's also a party.
Due to the fact that this is a weeklong event that culminates in fireworks, the staff puts together a barrage of activities to keep visitors entertained.
3. Stanley Dragon Boat Race
During the annual Dragon Boat Festival in Hong Kong, 140 teams go head to head in rowing some of the most fantastic boats you've ever seen. The boats are reminiscent of Chinese New Year with the spectacular dragon floats.
This race has been going on for two millennia. If you're a boat race enthusiast, this is one you would want to catch at some point in your life.
4. Nehru Trophy Boat Race
Every second Saturday in August is the biggest tourist attraction in this part of India. The race happens on Punnamda Lake and is the most popular one in Kerala. During one of the day's races is the Chundan Vallam, which is the record holder for the largest water vessel used in sports.
It's a very well-organized event that brings together the community and offers a plethora of spots to see from.
5. Vendee Globe
Perhaps the most challenging of all the boat races takes place in France, but there is much more to that story. Don't book your tickets to the French west coast just yet. This isn't a day or week type of thing. Vendee Globe is actually a race around the planet.
So, there are no stands to sit in for the three months it will take to complete the race. This might not be so tough if it was a team effort, but this race is done solo and there is no stopping once you start.
FAQs
1. Is there boat racing for motor-powered boats?
While we talked about sailing, rowing, and yachts, there are motorboat races, too. Regattas typically refer to wind-powered boats, but more recently, there are races in a regatta for motorboats. There's also jetsprinting, where two people use a jet boat for a timed race. Spring boat racing has been around since the early '80s.
2. What are the types of racing sailboats?
Because of the types of races, the sizes and shapes can vary greatly when it comes to the boats themselves. The one you'll find the most of while at an event or if you're in the market, is a keelboat. The majority of keels are yachts. Other types are centerboard boats, multi-hulls, and tower ships.
3. Can you use a racing boat for recreational boating?
Not really. The ultimate purpose of a racing boat is that it is built for speed. So, amenities and common luxuries found on boats that you chill on aren't included. There's no place to store food or sleep, things like that. A boat like that isn't the most comfortable and not particularly spacious for a party to go aboard.
That's not to say that it's uncomfortable to be a competitive sailor. There are still things to enjoy on a racing boat, but they are made for a purpose.