I had never gone boating until a friend of mine asked me on to his yacht recently. I suspected I would enjoy the experience, and indeed I did. Being out in the open sea with nothing but sun, sky, and a warm breeze was very pleasant and re-invigorating.
While I enjoyed the air, I found myself becoming increasingly obsessed with the layout of the boat. I took an interest in the flooring that was present on deck in the cabin area. Later on, I sought out more information about boat flooring.
I am a writer by profession, and so I seek to learn everything I can about a subject that strikes my interest. The following is a summary of what I learned about boat flooring.
What is Boat Flooring?
Boat flooring is designed to enhance the interior of a boat. It is essential for the safety of owners and their passenger guests. It is important to have proper flooring installed even if you use your boat for fishing or water sports.
High winds, rough seas, and violent squalls can come out of nowhere when you are at sea. Such unexpected weather can make it hard to walk around your vessel. Having the right flooring can mitigate such contingencies.
They can make it possible for you and your passengers to get from place to place without slipping and falling.
Good boat flooring is not only about personal protection, it will also enhance the overall value of your boat.
Related: Parts of a Boat (Illustrated Diagram of a Boat's Anatomy)
Types of Boat Flooring
Here are some of the most common, and most popular, kinds of boat flooring available on the market. This list should not be considered exhaustive, but you find that it is quite inclusive.
1. PVC flooring tiles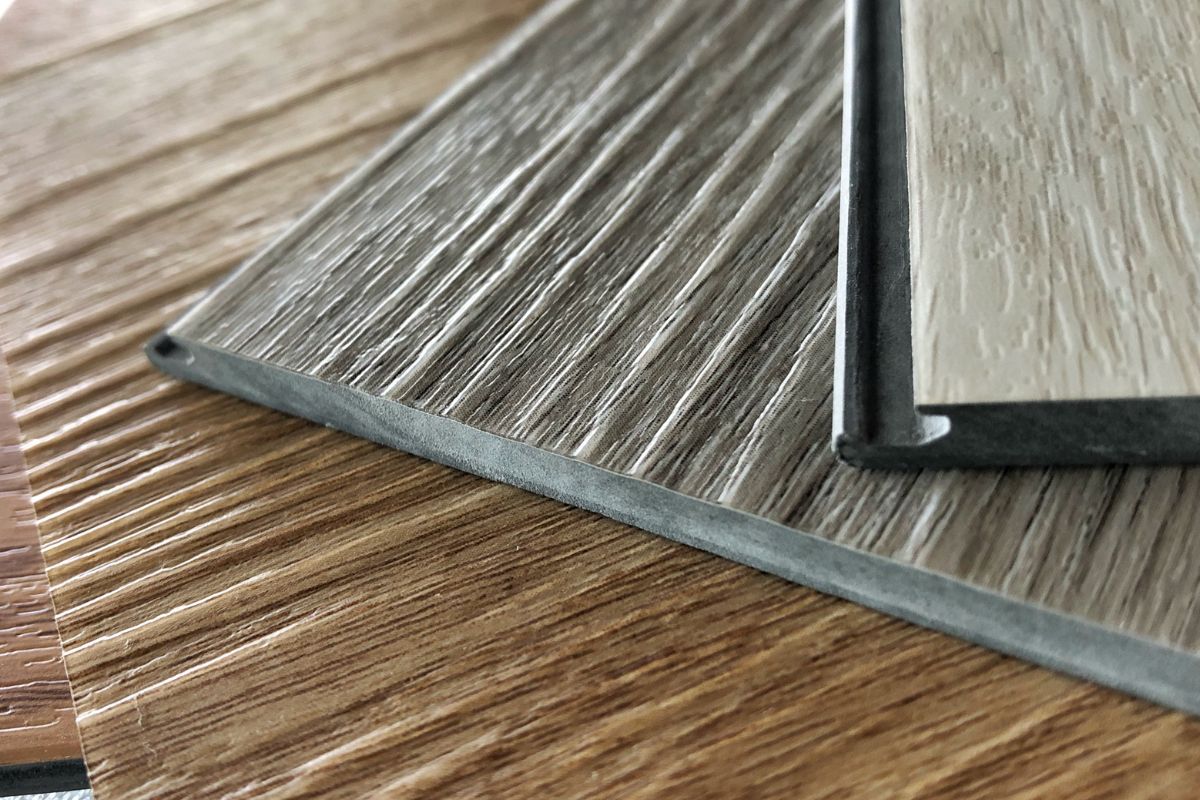 PVC tiles are easy to install. They are also the best option to protect your boat from damage by rain, sea, or sun. Such tiles come in different colors and patterns that enhance the aesthetic appearance of your vessel.
Another great benefit of PVC floor tiles is that they are easily replaceable. If a tile becomes damaged, that particular piece can be removed and replaced. The only downside of these tiles is that they fade with time and are not UV stable and protected.
2. Drainage tiles
These tiles are the best option for fishing boats. The tiles allow water to penetrate them. This helps in controlling the mess created by hauling large fish aboard your vessel. With drainage tiles, all you need do is hose and spray the tiles to clean up the flooring. All liquid on the surface will easily flow down to the bottom.
It is important to note that drainage tiles tend to be on the expensive side. However, if you use your boat exclusively for fishing, then it will be worth the investment.
3. Foam boat flooring
This type of flooring consists of a non-slip surface that does not absorb water. These tiles are soft and comfortable. They help prevent foot and back fatigue. Foam boat flooring also contains anti-bacterial and anti-fungal solvents, which suppress the growth of harmful microbes.
This type of flooring is quite durable. It absorbs much less heat than wood or aluminum flooring so that you can take off your shoes while on deck without the fear of being scalded.
4. Marine carpet flooring
This type of flooring has been in use for decades. When it first came out, it was quite similar to the carpeting used in households. The more recent versions of this carpet are more suitable for the marine environment.
Today's marine carpet flooring is softer and more comfortable than it used to be. It is durable and water-resistant in comparison with other types of boat flooring that are on the market. However, this type of carpet does tend to fade over time with UV damage.
There is also the problem inherent in all carpeting—the growth and infestation of bacteria.
5. Vinyl marine flooring
This type of marine flooring is perfect for yachts and ski boats. It is waterproof and UV resistant. If you have a recreational boat, and you want flooring that is sound and reliable, then you may want to consider this option.
Vinyl flooring is also good for people who use their boats to capture small fish, in that it is easy to clean. However, you should be warned. Vinyl flooring is slippery when wet.
6. Aluminium boat flooring
This material is lightweight and durable. It is best used for smaller watercraft. Aluminum will also reduce the overall weight of your vessel, which will help you save on fuel consumption. The most important feature of aluminum flooring is its high durability.
It lasts a long time. Aluminum flooring can last 35 to 45 years. It not only strong but highly resistant to corrosion.
If you install aluminum flooring, you must also install something that protects it. Aluminum and saltwater do not mix. Your flooring will become corroded if it is not properly protected.
7. Rubber boat flooring
This type of flooring is made from discarded car tires, which makes it eco-friendly. It is also slip resistant. You will not have to worry about slipping and falling if you run across the boat with wet feet. You can easily install this type of boat flooring using a self-adhesive.
One disadvantage of rubber flooring is that it is not UV protected. You will need to add a UV screen of some sort to protect the floor from direct sunlight.
Frequently Asked Questions
What types of wood are used in boat flooring?
Wood can be used for boat flooring, most commonly in topside decking, cockpit floors, and cabin floors. The wood used in this type of flooring is specially treated to stand up to long periods of a wet and humid atmosphere. Oak parquet, cedar, oak, ash, teak, mahogany, spruce, fir, and marine-grade plywood are the most common types of wood used for this purpose.
The reason why wood is rarely used as boat flooring is that it is expensive. Wood is also heavy and can be difficult to manage and install. The slightest error in installation can be very costly.
Even if you hire professionals to do the installation, there is a chance they will make a mistake. This can lead to a drawn-out installation process and more money out of your pocket.
Is canvas used for boat flooring?
This material is not commonly used in boats. It used to quite common in the upper decks of wooden boats in the mid-20th century. Nowadays, canvas is used to cover boats, not serve as their flooring.
What are specialty marine finishes?
These consist of paints, sealers, varnishes, and epoxies that have been developed specifically for the marine industry. They have been formulated to fend off the harsh conditions of life on the water, and they tend to protect boats for years.
Acrylic is one of the most common types of marine finishes. They can be applied with ease, hold up quite well, and are available in many colors. There is a choice of gloss, semi-gloss, satin finish, and non-skid finish.
Acrylic is easily cleaned and maintained; it is also highly durable. This material is perfect for deck flooring. The latter must be non-skid to be safe, and acrylic meets this criterion.
What is marine vinyl flooring?
This type of flooring is made to withstand the elements and it contains a non-skid finish. Marine vinyl flooring is also tough, durable, and tends to be offered in a variety of colors. This type of flooring can be used in outside areas of your boat or in the cabin areas. It is easy to clean. All you need is a brush and soapy water.
The great thing about marine vinyl flooring is that it will maintain its color, provide traction, and remain resistant to water for up to ten years. This kind of durability makes it a great investment.
What type of carpet is best for boats?
It is hard to find headache-free carpeting for boats. The best type of boat carpeting is that designed specifically for the wet and humid atmosphere of a marine environment. Carpet made of polypropylene is acceptable, as it is naturally resistant to water and UV rays.
When buying marine carpets, you should consider their weight and resistance to mold and mildew. The marine carpet you purchase should have received the kind of treatment that will allow it to withstand this kind of growth. The last thing you want is boat flooring with mold in it.
Not only is such a substance unsightly, it is also unsafe. If the carpet inside your cabin begins to mold, it will stink up the space.
The one great thing about marine carpeting is that it can be installed by laypersons. It is one of the most straightforward DIY projects you are likely to find. All the other types of boat carpeting are much more time-consuming to install. And in most cases, you will need to hire a professional to get the job done.
What is the least expensive option for boat flooring?
Believe it or not, the answer is marine carpeting. This is a result of its ease of installation. The fact that you can install the carpet yourself lowers the cost tremendously.
The trade-off is the work you will have to put in to keep it from getting moldy. Although modern marine carpets are designed for use in a nautical environment, it is still necessary to regularly clean and treats the carpet. This can take time. However, if properly cared for a marine carpet can last a long time.