Besides a dinghy, canoe, or kayak, a Jon boat is one of the least expensive ways to get out on the water. Jon boats are used for transportation, cargo hauling, inexpensive cruisers, and fishing boats. Larger Jon boats may even have a control console and cabin.
About Jon Boats
Primarily constructed of aluminum, Jon boats may also be made from high-impact plastic or fiberglass. Most of them have flat bottoms. However, some Jon boat designs incorporate a moderate V shape to the typically blunt bow (front) of the boat. This design helps it perform better when waves increase in size and to deflect water away from the boat's hull.
Jon boats that are bare of anything except the ability to float can be purchased in sizes from eight feet to over 20 feet in length. Most boat dealers will be glad to outfit your boat stem to stern (front to back) for a price. And that price will undoubtedly be higher than if you add accessories to your Jon boat.
Necessary accessories — for your Jon boat.
Some accessories may be required equipment where you live. Other rules are that your boat needs lights if you are on the water between sundown and sunrise.
Personal protection
Most areas require that your boat be equipped with a life jacket or life vest for everyone on board.
1. PFDs (personal flotation devices)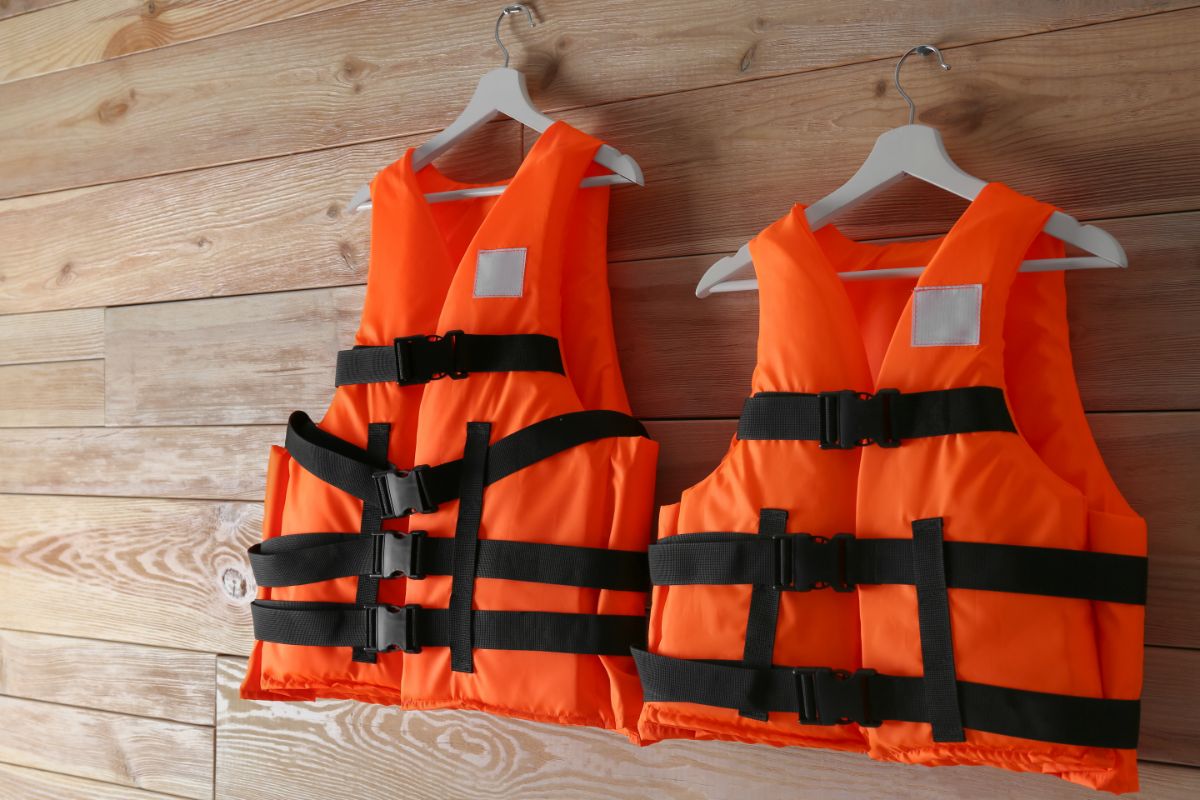 It would be best if you had a life jacket or vest (sized for the person) for every person on board your boat. A life vest is more comfortable and likely to be worn all the time than a bulky life vest.
2. Sound makers
A whistle, or horn, and light attached to a life vest will give you an easier time finding your boat mate that went into the drink. Even rivers and lakes get fogged, and someone in the water is hard to find when visibility is low. Add a chop and wave height, and finding your buddy will be even more difficult.
Securing your boat
You will need accessories for all of your boat's stages of securement.
3. Trailer
The smallest Jon boats will slide into the bed of a pickup truck or fit on car-top racks. Other Jon boats, though, maybe as long as your pickup truck and will require another method of transport.
The easiest way to get your Jon boat from home to the water is with a trailer. Boat trailers are made from steel or aluminum. Like other boat accessories, they are often offered as a package deal when you buy a boat.
4. Boat cover
An uncovered boat sitting on a trailer can fill up with water, leaves, and other debris that can make the insides of your boat dirty. A boat cover will keep the water, leaves, and such out of your boat when it's on the trailer. Also, when traveling, a boat cover will help keep what's in the boat in the boat as you go down the road.
Related: Different Types of Boat Covers
5. Boat tie downs
Whether you trail your boat or carry it in your truck or car, you need ratchet tie downs or rope to keep your boat on the trailer. Bungee cords work well to secure furled Biminis and other loose objects.
6. Cleats
Most boats have small cleats for tying off bait buckets and fish stringers. However, they are often too small to wrap a dock line around. Adding cleats large enough to be effective is necessary for your Jon boat, especially if you store your boat at the dock during the fishing season.
7. Anchor and Mooring lines
Whether you are storing your boat in a dock slip or not, you need mooring lines. There will be occasions when you need to tie your boat to a dock for fueling, to buy provisions, and if you are waiting to get to the boat ramp, to load your boat.
Like motors, passenger capacity, and the weight limits of your Jon boat, mooring, and anchor lines are sized for the need. The rope for mooring and anchor lines is sold by the foot, and its cost to you is determined by the type of rope you buy and how many feet of it you need for mooring and anchor lines.
8. Anchors
The type of anchor you need depends on the size Jon the boat you have and the type of bottom where you are boating. For example, rocky bottoms require a fluke anchor that can grab the bottom.
You can anchor in a muddy bottom with a mushroom or fluke anchor. However, if you want to anchor your boat fore and aft, you must purchase two anchors.
9. Power Pole — shallow water anchor
A power pole is designed for shallow water anchoring. They are made from a pole that will stick into the river bottom and pin your boat to the spot while you cast for fish. It is the simplest way to keep your Jon boat in one place while fishing in shallow water.
People power, gas power, electric, or a combination of propulsion?
There is more than one way to propel your Jon boat. Gas, propane-fueled, and electric motors are all suitable for Jon boat power.
Related: Different Types of Boat Motors
10. Gas and LP gas-powered outboard motors
Gas motors can power most Jon boats, and electric motors are often added to the bow (front) of the boat. The purpose of this motor is for moving slowly through the water, called trolling, and hoping a fish will hit your bait.
Gas and LP-powered boat motors range in output from 2 horsepower to 90 to 100 horsepower. Since a Jon boat's hull can easily move through the water, small engines move them quite well.
However, you need enough power to get home if the weather worsens and enough ability to move against the tidal flow and waves. And of course, some of us like to go fast and will put all the power allowed on the boats we use.
11. Electric trolling and outboard motors
There is a new generation of electric motors Torqeedo that are self-contained and more powerful than most older-style electric boat motors.
Electric motors are not the least expensive way to propel your boat. However, with one, you can scoot across the water almost as quietly as a sailboat. And you will never need to buy gas for your motor, but you may want to invest in a solar charger for its batteries.
If you plan to add an electric trolling motor to the front of your Jon boat, you will need a mount for it to be secured.
12. Outboard motor locks
An outboard motor that remains on your boat is a tempting target for those who would make your motor theirs. But, unfortunately, some boat motors are easily removed from your boat.
However, removing and outboard takes a bit of doing once you reach the ten horsepower plus range. For some of us, an even smaller motor would be difficult to remove every time the boat goes in the water. There are several types of motor locks. However, one of the best I've used was impervious to bolt cutters and most anything else that wasn't powered.
Smaller outboards are mounted to the transom with screw clamps. The motor cannot be removed if the clamps can't be turned. However, padlocks and chains can be breached with a set of bolt cutters.
Locks that cover the handles and use a close-fitting padlock are more challenging to thwart with bolt cutters or a torch. However, boat motors are expensive, so spending a few extra dollars on security is worth the price.
13. Auxiliary power for your Jon Boat
Oars
Whether you want to row your Jon boat or power it with an electric or gas motor, it needs a set of oarlocks and a pair of oars as auxiliary power. Because, sometimes, engines quit, but you still need to get home.
Jon boats without motors can be put into most rivers and lakes. However, once you put a gas-powered outboard on your Jon boat, you may not be permitted in certain lakes. Yes, electric, sail, or people power, but gas-powered power is prohibited on some waterways.
Paddles
Paddles will work too, but if you are by yourself, a paddle means you will have a great deal of work ahead of you if your trip home is several miles. Unfortunately, most Jon boats do not have built-in oarlocks, but you can get them from most marine supplies or big box stores.
Size matters — with boat oars and paddles
Oars need to be sized to your boat, or they may be too long or short to use comfortably. The same is true of paddles. It would help if you had them to be long enough from a seated position in the boat to reach the water.
Seating in a Jon boat is minimalist – boating seats and cushions help.
The seats of a Jon boat are usually just a flat surface that spans the boat's beam (its width) and is wide enough to sit on, barely. However, they are not comfortable, and after a few hours on the water, you can tell you are sitting without support.
There are many different seats that you can purchase for your Jon boat, and some are made from hard solid materials, but at least they have a back to lean on.
However, you can purchase other seats with and without backs or padding. Although, a padded boat seat for your Jon boat will keep you comfortable for much longer than if you perch on a flat seat.
Some padded cushions can be used as a flotation device when designated. As such, you can use them to pad your seat and throw it to anyone who might go overboard.
14. Pedestal and swivel Jon boat seats
Some seats attach to your Jon boat via clamps and are fixed. Other Jon boat seats have a base that swivels.
Some Jon boat seats can be equipped with a pedestal, which raises your seating position. A padded seat that swivels in your Jon boat is a more comfortable way to sit than propped on a flat boat seat.
Pedestal Jon boat seats elevate your position slightly to give you a better view across the water for navigation and seeing where the fish and other boats are.
Rig your Jon boat — with fishing accessories
You have already seen one fishing accessory, the trolling motor, which is a must if you are an avid angler. There are many other accessories; however, they can turn your Jon boat into a dedicated fishing machine.
15. Rod Holders
Rod holders can be screwed in place, or you can buy clamp-on rod holders that can move from one place to the other. Having more than one rod holder is the answer to more fish.
With multiple rod holders, you can fish with more than one rod giving you a better chance to catch a fish. I've seen anchored boats that look like porcupines; they have many rods set.
16. Fish Finders — there's more than one kind.
You can purchase fish finders made to find fish and do nothing else. The second style is a fish finder/chart plotter and can show you your fishing grounds and GPS coordinates, along with what's happening beneath the water.
For boats much larger than most Jon boats, you can purchase a networked system that combines every element you need to navigate, find fish, watch the weather, access satellite radio, and more that can be managed with your Smartphone.
17. Tacklebox
Like everything you need aboard a small boat, it needs a place of its own, and tackle boxes made for Jon boats fill that need. Boat-Tote makes tackle storage units that also serve as a place to mount electronics, sit your drink, store your fishing tools, and even hold your fishing rod.
18. Keep your bait alive.
If you are using live bait, you will need a way to keep it alive. The simplest way is with a classic floating bait bucket that you drop in the water as you stop along the way.
However, many units can be fitted into your seats, and portable, self-contained units have aerators.
Keep cool — with a spot of shade and a cold beverage
Many Jon boats are open to the sun and rain; however, not everyone wants to bake in the sun while they fish or cruise the river.
19. Seat-mounted umbrella
If you want an easy way to make a spot of shade, a seat-mounted umbrella will help you keep your cool.
20. Bimini top
A Bimini top made of fabric can be folded away when you want to sit in the sun. Or you can put it up to give you a little shade and protection from the elements as you hunt fish.
Accessories that make life on the water — much more comfortable
21. Solar cell phone charger
Using your cell phone for navigation and music likely means it will need a charge before you return to the dock. A solar-powered phone charger can keep your phone's battery charged while you enjoy a day on the water.
Some units combine a solar charger with a flashlight and can simultaneously charge more than one device.
22. Keeping things cool
For Jon boats too small to clutter with an ice chest, a cooler bag can keep your drinks and food cool while on the water. Adding a built-in ice chest and live bait well for larger vessels is possible if you have a larger-sized Jon boat.