Spring is here, the sun has begun to poke out, and it's time to make summer plans. As a long-time boater, I'd say there's no better way to enjoy your summer than on a pontoon boat. A Pontoon boat is fun to have. It'll provide many types of recreation and exciting activities like fishing, swimming, snorkeling or even holding a party in the water.
Talking of Pontoon boats, have you noticed an increase in the popularity of a certain type of boat in the pontoon world, which has opened up the industry to a new market for pontoons and fans in the past few years. Wondering what I'm talking about?
The small pontoon boats, narrow beam pontoons, compact pontoon boats, and mini pontoon boats refer to pretty much the same thing. These are the smallest pontoon boats money can buy, the mini-size being the smallest. Their size is below 20 feet in length, and their width is about 8 feet!
Join me as we learn all there is to know about small and smallest pontoon boats.
How Small Is a Small Pontoon Boat?
The width of a pontoon boat is a key factor when determining its type. Each type comes with its pros, cons, and ideal use.
Depending on the manufacturer, the width of a pontoon boat is measured as the deck width or tube width. However, it's better to focus more on the desk's width as it's the one defining your boat's space, while the tube is more about its performance and power.
Basically, pontoon boats are categorized as small when they have a length of less than 20 feet and a width of 8 feet. A compact pontoon can even have smaller sizes, ranging from 12 feet long down to 7 feet wide. Pontoon boats below 7 feet in width are classified as mini.
Small pontoon boats are ideal for moving in small waterways. Their capacity can only accommodate between two to six people.
Other categories are medium pontoon boats which are the most popular with a length range of 20 to 24 feet, a width of 8 to10 feet, and can hold up to 10 people. Then there's the large pontoon boat with 24+ feet of length and width that goes up to 12 feet and a capacity of more than ten people.
What's The Use of Small Pontoon Boats?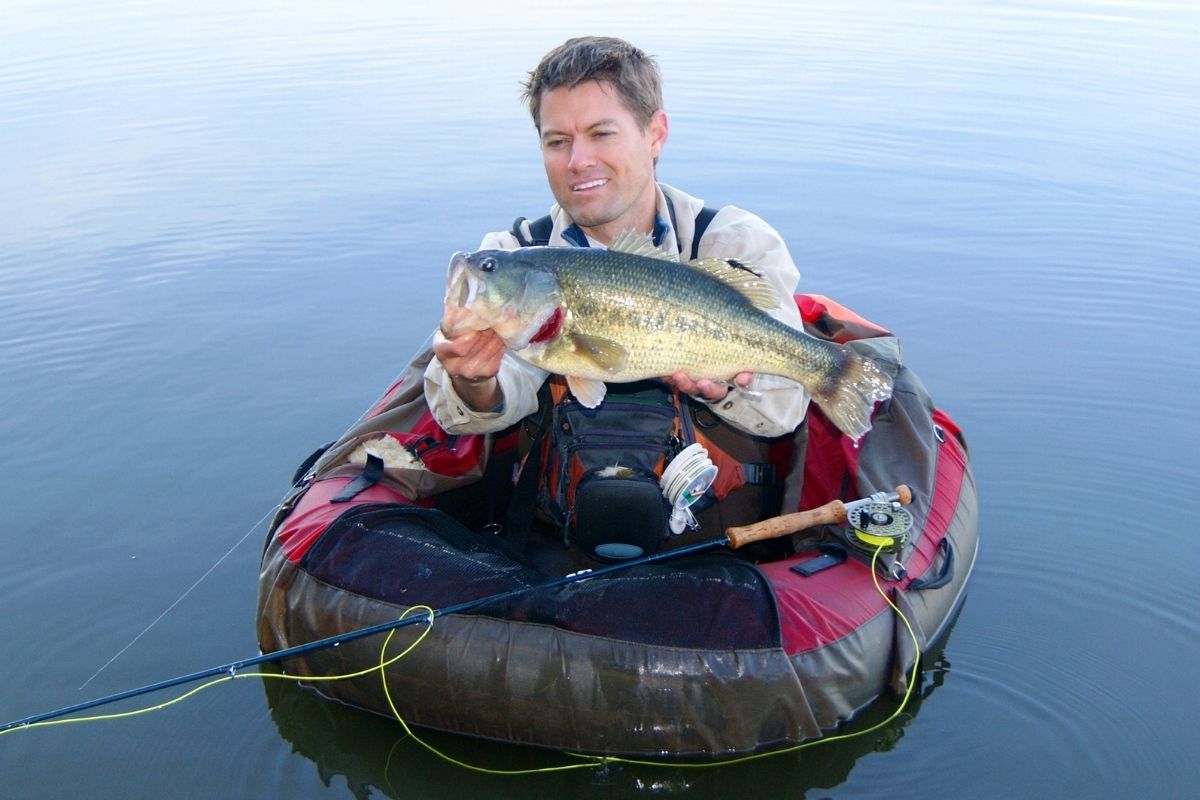 Small pontoon boats come in handy to those who want something small and affordable for a ship — perhaps as a beginner pontoon or a starter boat.
They're also popular with fishing enthusiasts who love fishing in the local water or have no wish to go out on large lakes.
But maybe you hadn't thought that small pontoons are predominantly used in government agencies such as law enforcement, rescue services, and parks or recreation.
Yes, they are. The small vessels can reach places that larger pontoons can't, like creeks and shallow water.
Furthermore, they're not as heavy, enhancing quicker rescue time for emergencies and rescues. And I guess there are some budgetary issues too.
Are There Different Types of Small Pontoon Boats?
There are three types of small pontoon boats in the market: Narrow pontoon, Compact pontoon, and Mini pontoon (the smallest). Each size has its abilities, benefits as well as limitations.
A pontoon boat with a narrow beam is great for rivers. A compact one is a suitable choice for a family looking for pontoon luxury and affordability at the same time. And a mini pontoon will just offer a few square feet for you, one fishing buddy, and maybe a cooler.
Let's dig a bit more about each type of small pontoon boat:
Narrow Pontoon Boats
As the name suggests, these pontoons are very narrow and slim-line. Narrow pontoon boats are ideal for narrow rivers.
Their size reaches around 6 to 8 feet, which is slightly smaller compared to a typical pontoon beam that's 9 feet.
Compact Pontoon Boats
Compact pontoons make an excellent way for you and your family to get started on pontooning, even if you're on a tight budget.
Their length ranges between 12 to 20 feet, with the maximum beam being 8 feet. This gives you a deck of around 100 and 160 square feet.
Maybe that sounds much, but the capacity can get cramped with a few folks on board. So you better get to see one and evaluate if it's enough for your pontooning plans.
Mini Pontoon Boats
Finally, we have the smallest pontoon available on the market. Mini pontoons are around 50 square feet- just enough room for two people and a small amount of fishing gear.
Mini pontoons are so small that some don't have electric motors. Instead, they're paddle-powered.
Good to Note
While mini-pontoon boats are the smallest available, they won't be an excellent idea for fun and aren't a good choice for taking your family, friends, and pets.
You won't be entertaining guests with foodstuff and beverages, and you won't be able to pull an inner tube or a water ski. You might have a small beer cooler on board, but that's it.
Why Should I Buy a Small Pontoon?
If you're a member of the public and not working for a government-type industry, what would be the advantages of using a small pontoon boat?
They're Suitable For Shallow Waters
While you can always use pontoons in shallow water, small compact models can do better in this. For instance, if you want to go fishing on a pond, small pontoons are far more suited for such an environment than v-shaped hulls.
No Worry About Horsepower Restrictions
Suppose the lakes near you restrict the amount of horsepower your boat should have, a small pontoon can help you overcome that. The craft's engine is much smaller. In fact, a mini model might not even have that engine, so there's nothing to worry about.
They're A Great Choice If you're On a Budget
A small pontoon can be an excellent way to dip your toe into the pontoon regime. Their size and price make them ideal for those who just want to scoot around the water quickly. Or those who don't want to spend a lot of money on a pontoon.
They're Stress-Free to Maneuver
You might be intimidated by the idea of operating a bigger boat, especially if you're a first-timer. Compact pontoon boats are easier to move around the water and trailer-up, dock, and launch.
They're Easier to Store
Small pontoons are much more manageable from a storage perspective, even if your space is limited. Some of the small ones you can even hang them overhead in your garage, leaving you a room for a car park.
They're Environmental Friendly
Since this type of pontoons have small engines, their gas emissions are lower. For the mini pontoons which only come with pedal power, the issue of gas emission doesn't even appear in the equation. They are indeed considered the greener choice.
Final Thoughts: How Small Do Pontoon Boats Come? What's The Smallest Length You Can Buy?
Whereas small pontoon boats are not new, they've become so common out there on the water. They come in different models and serve different purposes.
The mini pontoon is the smallest you can buy. Nonetheless, the model might be too small, especially if you want a pontoon for family activities, leisure, and fun.
If that's the case, there's no reason why you can't go for a compact type and have pretty as much fun as you would in an ordinary-sized boat.
Anyway, whichever you decide on — be it the narrow beam, the compactor the mini pontoon, let it be suitable for the purpose you intend to use it for. Whereas there'll be something you can't do, only your imagination and the performance of your boat limit you.