I no sooner bought a Hewescraft boat, which wasn't cheap and leased a marina slip and now I'm neck-deep in researching and buying boat accessories. It's fast-becoming a hobby for me but it's been fun. While there are many parts of a boat, there are more boat accessories you can buy.
When it comes to stuff you can buy for a boat, there's no shortage. I've been reading about boating gear and gadgets for some time now. I've bought a handful of items so far. I'll probably buy more.
I categorize boat accessories as tech, gadgets and safety. Many of the boat safety accessories are required in some jurisdictions (such as mine) but I'll list them anyway. Until I took the boating exam I didn't realize most of the safety gear that's required for all boats. I recognized that large yachts need plenty of gear but I didn't realize small fishing boats need much of the same.
Also, which boating accessories you buy will depend in some cases the type of boat you get. For example, if you have a huge yacht, you'll need more fire extinguishers and heavier duty safety equipment.
If you're looking for some boating accessory ideas, scroll through my list below.
Related: Aluminum vs. Fiberglass Boat | Parts of a Boat | Where to Buy Used Boat | Hewescraft 180 Pro V Review | Renting a Boat Slip | Types of Boats | Boat Cost | Hard vs. Soft Top vs. Hybrid vs. Semi Top Boat | Buying a Boat | Parts of a Boat Trailer
A. Boating Tech
1. Sounder/Fish Finder
I opted for the Lowrance Elite fish finder because it's more than just a fish finder. It's a GPS, sounder and fish finder all in one. The large screen makes it easy to view key data while driving. There are many different screen displays available. While it's not cheap, this thing is awesome. I'm glad I spent more for this higher-end product.
Read our fish finder article setting out all types of fish finders and sounders and learn about the different types of fishing rods here.
2. Trickle charger or battery maintainer
I just bought this to keep our boat battery charged while at the marina. Our boat has an automatic bilge pump that pulls from the battery so we definitely need this for winter when we don't take the boat out much. We get quite a bit of rain so the bilge runs regularly.
3. Warm Air Circulator
This device is to prevent mold and mildew during winter storage. It circulates warm, dry air throughout the boat cabin area. A good one draws low wattage (75 or so).
4. Solar panels and inverter (solar power)
We're going to outfit our boat access cabin with solar panels so this isn't necessary. I'm still tempted but one problem is the panels are not waterproof. It rains a lot where we are so it would have limited use. Conceptually it's awesome and if we weren't primarily parking our boat at a cabin, I'd definitely get something like just to have a ready source of power.
5. Marine camera
If you'd like to add your own security to your boat wherever it's docked, get a marine camera. It's a surveillance camera. I don't have one. I doubt I'd buy one but I can see the desire for such an accessory.
6. Radar
Marine radar helps with navigation. It detects other boats, land, weather systems etc. We won't be taking our boat far out on open water so it's not necessary for us but if we were to head out far off land, I can see how this could be helpful.
7. Boat stereo speakers
Small, easy to install bluetooth speakers for your boat. These are weatherproofed speakers which is necessary on a boat.
8. Cell phone signal booster
The cell phone booster is something I'm interested in for up at our cabin. We get cell reception but it's spotty. I have a hunch this product would provide the boost we'd need to ensure a consistent and decent signal.
9. Boat Cabin heater
Since we don't plan to head out in the cold much, we don't need a heater for our boat cabin but if we did, a heater would be nice. It doesn't take long to get chilled on a boat.
10. LED Boat Strip Lights
Obviously not a necessity but could be fun if you want to deck out your book with some colorful lighting. This isn't my thing but I could see the appeal (maybe).
11. Waterproof USB Charger
You can hook this USB charger up to your boat battery or cigarette lighter to charge devices. These things are very handy. I have one in each vehicle we own and I'll be getting one for the boat. You never know when you'll need to charge a device. I know some might read this and think we can get by without our devices for a few hours and that's true, but I view cell phones as a safety item on the water. I realize coverage isn't perfect but it could be a lifesaver. We will use our boat where there is a signal for the most part. It would be a shame not to be able to use it because of a low device battery.
B. Boating Gadgets
12. Boat Bungee Dock Lines
Initially, I bought four regular dock lines. They work just fine but I just bought these because it sure looks like this could speed up tying up a boat at our dock. It's a quick slip knot and done. I'll give it a shot and see whether it's better. These aren't expensive so it was worth a try.
13. Boat Tote: Boating organizer
I highly doubt I'll buy a boat organizer but that's because inside our cabin we have cup holders and storage compartments. If you have a skiff with no surface areas, this could be an ideal accessory.
14. Mesh Boat Trash Bag
I like this idea. I know garbage will stack up on the boat. This keeps the boat tidy and easy to get rid of the trash.
15. Boat Grill Mount
I have no plans to grill on my boat but if you like the idea, here's a way to mount the grill to your boat. Catch, clean and grill. When put that way, I'm almost tempted to buy it.
16. Boat cleaning kit
I don't myself cleaning the boat all that much other than using the built in hose to spray it down. However, if you're the type who loves a clean boat, you can buy boat cleaner kits just like this.
17. Umbrella with clamp
If you have no covered area on your boat, an umbrella with a clamp could come in very handy. Sitting in the open on the water in the hot sun can get unbearable. This umbrella could provide the shade you need not to fry all day.
18. Binoculars
Binoculars come in very handy on a boat as you can imagine. It's a good idea to get weatherproof binoculars that perform well in heat, cold and if they get wet. Shock-proofing is also good since it's likely they'll get dropped or banged around on the boat. Lastly, you don't want them too big or heavy since often you'll be using them with one hand.
19. Docktail Boat Bar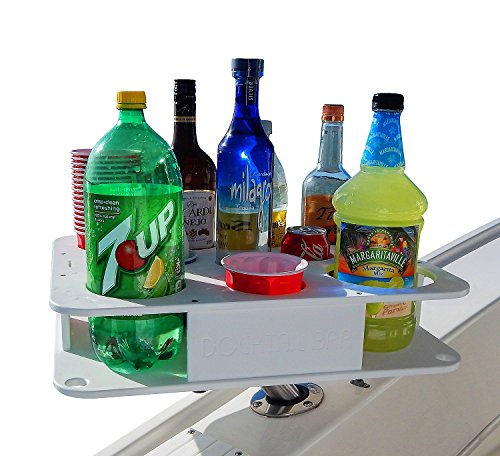 Like the grill mount, I doubt I'll buy this docktail boat bar but for those who are partying on the boat or have nowhere to put beverages, this could come in handy. It's great for preventing spills.
20. Waterproof cell phone cases
If you're worried about frying your cell phone, get a waterproof cell phone case. You can use the phone through the case (although it's not as sensitive as using without). It's a good idea on a boat.
21. Dry bag
Having one dry bag around for stuff you can't get wet is smart especially if you don't have a cabin. I'll probably get something like this… I'll have to use our boat for a season to find out if it's necessary.
22. Swimming ladder
If you plan to recreate with your boat, a folding swim ladder is a must-have. We had one installed
C. Safety Accessories
23. Life jackets
Life jackets are a must-have item for any boat. One life jacket per person. Ideally, everyone wears them. That's what I learned in the boating exam and it's hard to argue with when you look at the boating death statistics… many deaths could have been avoided had people been wearing a life jacket.
24. Emergency kit for boating
I like prepared kits because it makes things easy. I bought a Mickey Mouse boat emergency kit and should upgrade to something like this. I know I'm sounding overdramatic about safety but I have to say the boat licensing course and exam I took opened my eyes to the dangers of boating where much of the danger could be avoided with the proper emergency gear onboard.
25. First Aid Kit
Check. We have a first aid kit. I have tons of these. They come in handy. They're a good thing to have on a boat.
26. Floating safety line
A floating safety line is a no-brainer. If someone falls out, you can fish them in.
27. Flare gun
Also a no-brainer. It's hard for aircraft and other boats to see your boat if weather is bad. Flares help. Flare guns can save lives. It's good to have one. In our neck of the woods, they're required.
28. Whistle
A whistle is a low cost, potentially highly effective piece of safety equipment. Being able to alert with a loud whistle could come in handy in many dangerous situations.
29. Fenders
More of a boat protection item, fenders hang off the boat and prevent the hull from hitting a dock. I bought 4 of them and I'm glad I did.
30. Air horn
If you really need to make some noise, nothing will do so quite like an air horn. Another good safety item to have onboard.
31. Flashlight (waterproof)
Flashlights not only help you see, they can serve so that other boats can see you. Once agian, low cost with a very high safety effectiveness. I'll probably outfit our boat with two high-quality flashlights. Currently, we have one.
32. Fire extinguisher
In our jurisdiction, a fire extinguisher is required. I have one. I hope to never have to use it but they can save lives. The number of fire extinguishers you need depends on how big your boat is and whether it has many separate rooms below. Each distinct room should have a fire extinguisher.
33. VHF radio
Channel 16 is where it's at. That's the emergency channel on a VHF. I learned that in my boating course. VHF is more reliable than cell phones so I decided to buy one for our boat. Again, I hope to never have to use it but if in a jam it could save lives.
34. Manual bailer
You could opt for a manual pump like this or a simple bucket to scoop water or both. We are required to have some form of manual bailer on board to get water out if it's coming in and not getting pumped out.
35. Boat hook
This could very well be one of the most useful items I bought. It's helped me dock numerous times. Once fairly close, someone can easily hook onto the dock and pull the boat in. It's a must-have boating accessory IMO.
36. Floating keychain
So simple, yet could make a huge difference. If you drop your key overboard, you're stuck. Bust out the paddles. That's no fun. If your keys are floating, you have a fighting chance to find them.
37. Floating gear bag
The above takes a waterproof bag to another level. This one floats with gear inside. That could be important. You could store survival items in it and in the event the boat capsizes or sinks, this floating bag just might make it shore with you and prove helpful.
38. Waterproof lighter
You never know when you'll need fire so having a waterproof lighter on board is a really good idea.
39. Paddles
This particular paddle is interesting because it telescopes. We bought basic wood paddles. At the end of the day, paddles are important. Since we have a kicker motor (second small motor) paddles aren't necessary but the thing is, we could run out of gas in which case neither motor works. I feel better with paddles.
40. Jerry Can (filled with fuel)
It's always good to have a jerry can filled with fuel as an emergency fuel reserve just in case your boat runs out of gas. Boat fuel dials are not terribly accurage; as a boat bobs up and down it's hard to get a precise reading on the water.
41. Compass
If you head out on open water it's always good to have an old school manual compass on your boat. Even if you rely on electronic compass, they can die for any reason.
42. Knife
It's a really good idea to have a good hunting/fishing knife aboard your boat. You never known when you'll need to cut a line or need to cut something to get out of a jam or rig something.
That's it and it's a lot.
Obviously, you don't need everything in this list. I don't plan to buy everything but I think I'll get quite a bit of it. Not tomorrow or the next day but come boating season I'm hoping to have the boat very well provisioned with both fun and safety accessories.